From
wwayneee's personal cargo
For this project, I want to make a visual software that analyzes the topics of autonomous agents + swarm intelligence. I did some poking around online for good algorithms and examples for both Processing and Flash (Actionscript is a bit more mushy compared to Processing ).
Meiotic Clusters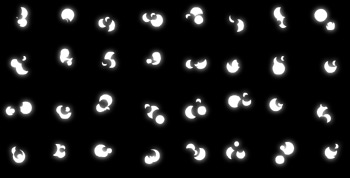 I particularly like the Meiotic Cluster project by Levitated design. I like the way it uses simple geometric shapes with alternative black / white fill to create organic forms. The overlapping of the black and white shapes creates negative space against the color contrasting the background. the position (perhaps size) of each shade is then randomly generated to create new and original forms. There is also an alternative version that uses squares instead of circles. I think it looks even more interesting.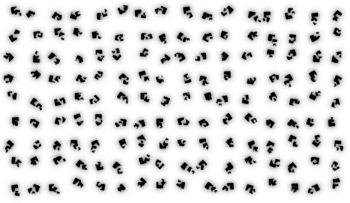 This is a project is not open-source but I think I can build something like this from scratch with Processing with relative ease. The simple program will serve as a good starting point for my original piece.
I want to write a program that explore the relationship between individual objects within the context of a swarm; the way the behavior of an individual object or marker affects the mass. A lot of ideas are still floating in the air right now but I think I'll have a much better feel of my direction when I start writing code.
Another link for future reference of object interactivity:
Gobble Theory